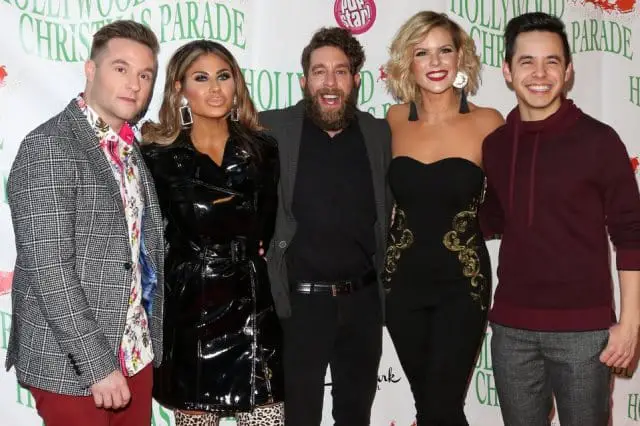 David Archuleta and David Cook are in the contest of their life as they prepare for the final vote on American Idol. Will David Archuleta's Archy Angels young fan base come through or will David Cook's bed banging, head banging rock fans want their Idol?
The truth is, both American Idol contestants will be wildly successful and either David Archuleta or David Cook could win the title as the next American Idol. Good luck to both David Cook and David Archuleta. Best wishes and congratulations to Syesha Mercado for making the top three in the American Idol competition. The competition between David Archuleta and David Cook takes us back to Season 2 of American Idol, when the final two contestants were Clay Aiken and Ruben Studdard.
In Season 2 of American Idol, Clay Aiken was clearly and consistently the better talent and much like David Cook, Clay Aiken progressively improved his appearance, his ability to showcase his range of voice, and his ability to make a song his own. Clay's memorable performances of "Don't Let the Sun Go Down on Me," "Grease," "Mack the Knife," "Unchained Melody," "Somewhere Out There," and "Bridge Over Troubled Water" pretty much sealed his fate to be among the final two of American Idol Season 2. Yet, American Idol voters chose their Teddy Bear, Ruben Studdard to take the title of American Idol.
David Cook's brilliant performances of "Billie Jean," "I'm Alive," and "The First Time Ever I Saw Your Face," proved that David Cook is worthy of the final two contestants for American Idol. But, David Cook had his bad karaoke moments, too. David Cook didn't do the best job of taking a classic rock ballad and arranging it to fit a one and a half minute performance. David Cook is a great rocker, a great arranging artist, but does he really have a strong connection to his American Idol audience? David Cook's hometown visit proves that he has fans, but has David Cook won over the hearts and souls of American Idol voters like Ruben Studdard did? David Cook doesn't appear to have the same personable connection with the masses.
Ruben Studdard, like David Archuleta won the hearts and souls of Americans and the voters, which led Ruben to the victory and title of American Idol. Ruben's memorable performances of "Sweet Home Alabama," "Nights on Broadway," "How Can You Mend a Broken Heart," "Signed, Sealed, Delivered," and "Imagine" connected Ruben with his audience the same way David Archuleta has connected with his audience.
David Archuleta, like Ruben Studdard, clearly doesn't have the advantage over David Cook for stage presence, arranging ability, or experience level. But, musically, David Archuleta can deliver a ballad while accompanying himself on the piano like no other. The heart and soul of David Archuleta, and his strong connection to the American Idol masses was proven with his brilliant performances of "Imagine," "The Long and Winding Road," "America," "Stand by Me," and "Love Me Tender".
In the end, both David Cook and Clay Aiken proved they are musical superstars. In the end, both David Archuleta and Ruben Studdard proved they could become musical superstars. In the end, will heart and soul once again be the deciding factor for who will be crowned the next American Idol?
My prediction for the next American Idol: David Archuleta