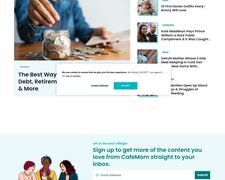 If you are an internet savvy mom then you will love CafeMom.com. It is a hot new place on the web where moms get to meet other moms and share pictures, stories, advice, and much more. Here is a little bit of what you can expect if you open an account with CafeMom.
Create a Profile
When you sign up you create a basic personal profile. After you get the hang of everything you can customize your profile the way you want. You can pick out a CafeMom profile theme (they come in Nature, Baby, CafeMom, Pattern, Interests, and Fun) or design your own page with colors of your choice. Later you can add photos to your profile to show off your family, write a short profile for each of your children and add widgets which include music, slideshows, videos, glitter text or whatever you like.
Journals
CafeMom is a great place to start up a journal. You can write about raising your children and share stories with other moms or just write about your life in general. Whenever you post a new entry your journal will show up on the Journals page so that others can read and comment on what you have written. You can also check out your friends' journal pages from your profile page and other popular journals.
Make Friends
Find moms in your area to hang out with or make long distance pals. You can add other people as friends just like other social networking sites like MySpace or Facebook. Friends can write in your chatterbox which will show up on your main profile page.
Participate in Groups
CafeMom offers a wide variety of groups created by its members. You can participate or read the threads from groups about raising children, great recipes, relationship and sex advice, politics, moms trying to conceive, plus-sized moms and more. Groups on CafeMom are an awesome way to gain advice from other moms. If you are a new mom (like myself) and need a little bit of comforting from someone who has "been there" or some quick advice the moms on CafeMom are always available to talk to through group postings!
Messaging System
Keep in touch with friends by using the messaging system. CafeMom has its own mail system so you can talk to other moms online anytime.
Pictures Galore!
The best part about joining CafeMom is picture sharing. Love looking at cute babies? Well you will love the way everyone shares pictures of their children. You can click on Photos to see what photos have been recently uploaded, add your own photos, and check out photos posted in Group threads. The abundance of cute pictures are what make CafeMom an awesome community.
If all this sounds great to you check it out for yourself at http://www.cafemom.com